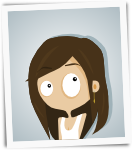 Céline Auzias
Graphic & Web Designer / Illustrator
Age:35, French
Single, Driving Licence
c.line-design.fr
c.line@ymail.com
+33 6 80 16 67 10
Skills
Creativity and originality
Ergonomy / usability / User Experience
Compliance with Web standards and accessibility
Graphic / Design
Illustrations, vector graphics
User Interfaces (web, mobile – iPhone, Android, Windows)
Communication media : logotypes, posters, booklets, brochures...
2D animations

Softwares

: Inkscape, Gimp,...
Web developement
Complete creation of websites: design, front-end, back-end
Very good knowledges in Web ergonomy
Good knowledges of naturel SEO
Browsers compatibility

CMS

: WordPress, Joomla, DotClear

Languages

: (x)HTML, CSS (Less, Sass), PHP / MySQL, XML, Javascript
Languages
French (native language), English (TOEIC: 795pts), spanish (basics), norwegian (basics)
Work Experience
Self-employed / Freelance Graphist / Illustrator / Webdesigner
Since January 2009
Illustrations, UI design (web, mobile), website creation (development, graphic charts) and communication media creation (logos, visual identity, posters, booklets, illustrations...). for enterprises and private individual
Portfolio
:
Some clients: CNRS, I3S, ANR, Inria Sophia, Inria Lille, SINTEF, Ecole Polytech'Nice Sophia, Ahead Solutions, Smart&Soft, Metro News, Mi4, Les Micro-creches de l'Orge, Ozerise, Everything4Mobile, Easyacht Management, La Nuit de l'Info, Aladine, OGC Nice Association, Clinique Vétérinaire du Faubourg, Nomad Planet, Societe Biztoob, ilumine Photographie, Vianeo, Assoc. Yntiafrica, Assoc. Artamis, St Martin Biarrotte Sport, cats breedings : Swahili's et Massai Mara, Fee des Bruyeres, Cité Interdite, SacréRoi, Domaine d'Umahé ...
Engineer contractor at Air France via Supralog
Sophia Antipolis (06), France
-October 2012 - February 2018
CMS team. Development on interface of B2C website airfrance.fr (HTML, CSS, Javascript, JSP, TeamSite). Development on mobile app and mobile site. Responsive design. Graphic mockup.
Enkeltpersonforetak (self-employed)
Designer graphist
(Oslo, Norway) -
Sept. 2011 -Sept 2012
Engineer contractor at Amadeus via Astek Sud-Est
Sophia Antipolis (06), France
- October 2007 – August 2011
Division Sales & e-Commerce Platform. Development of User Interface of Amadeus e-Travel Management (e-booking platform - flight, train, hotel, car). (HTML, JSP, Javascript, CSS, Java). Participation in the User Interface Overhaul Project (SCRUM methodology).
Internship (stage graduation) at OPEN-PLUG
Sophia Antipolis (06), France
- March-September 2007
Created applications for mobile phones. (Windows, Visual Studio, Langage C)
Internship at CKC-NET (Web Agency)
Sophia Antipolis (06), France
- July-August 2006
Concieved, developed and managed a database for an online strategy game. (HTML, CSS, PHP5, MySQL, Javascript, Ajax)
Internship at SIG-IMAGE (CAD/CAM)
Bidart (64), France
- April-May 2004
Developed an application to manage « line styles » in a CAD software. (C language)
Education
Graduate Engineer School in Computer Sciences
2004 - 2007
Ecole Polytech' Nice Sophia-Antipolis, Sophia-Antipolis (06), France
Two year degree in Computer Science
Specialized in Software Engineering
2002-2004
Institut Universitaire et Technologique de l'Université de Pau et des Pays de l'Adour, Bayonne (64), France
(Graduated: first year: 6/95, second year: 3/55)
High school diploma in Science
Spec. Math. - passed with honors
Juin 2002
Lycée R. Cassin, Bayonne (64), France
Personal Interests
Drawing (by hand and with computer), web design, painting, graphic and manual art of all kinds
Music (I play piano since age of 8)
Hiking, nature, botanic and animals
Yoga, Fitness, Pilate
Design Awards
Edited in Web Design Index By Content vol.05 (Pepin Press)

"The world's top web designers"

The CSS Awards - Honorable Mention

"Best CSS Websites"